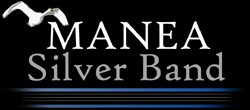 Manea Training Band

The Manea Silver Band has a long history of providing free musical tuition; all we except in return is dedication.

Our present training band was started in the summer of 2010 after a gap of a few years. Tuition is provided by experienced players from the band. We welcome learners of all ages. All of our tutors are DBS checked and cleared. Our DBS certificates are available for inspection on request.

Lessons take place every Monday from 6.30pm before the main band rehearsal. Learners are encouraged to stay for the full rehearsal once they reach a certain level of proficiency.

The band's Child Protection Policy can be viewed here.